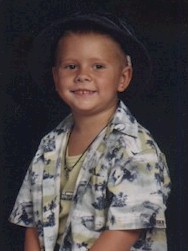 Today is 10/28/01. Casey is 5 years old and his speech has improved greatly! Congratulations to you Casey!

Let his mother, Paula, know what you think of Casey's speech, by writing to her at Caseysmama@aol.com.

Click here to listen to Casey on 10/28/01 and compare to 3/801, and 7/1/01, "Hi, My name is Casey, I am 5 years old, I love you Mom, I like power rangers, go go power rangers, Joy Joy down in my heart, I like Kindergarten, I am learning my ABC's."
.