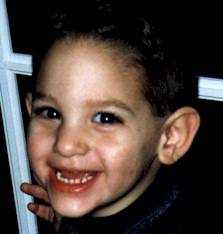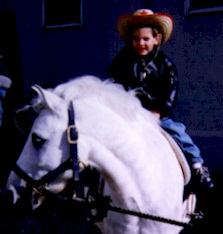 Evan is 3 years, 4 months old. He has been receiving speech therapy for exactly 18 months. He was diagnosed with apraxia by his 2nd birthday. He is currently enrolled in Livingston, New Jersey's "Pride" program for preschool disabled children.

He goes 4 half days/week and is pulled out for 2 individual speech sessions plus 1 classroom infused speech group. Additionally he receives 1 individual occupational therapy session and 1 sensory motor group at school.

We supplement him with 1 hour of private speech therapy. Evan is an excellent gymnast and hopes to go to the olympics (just kidding)!! For Evan's entire story, please click on the following link: Staci.

Click here to listen to Evan on 4/3/01 and hear him say, "E-V-A-N. I'm 3. I go (to) school. Mr. Tom (drives the) bus. I like Thomas (the) choo choo. I like Blues Clues and Rugrats. I go pee pee potty. I'm a big boy. I love Mommy. I love Daddy. I love Carly. Goodnight!"
.
Let Evan's mother, Stacey, know what you think of Evan's speech, by writing to her at SAbens4951@aol.com.