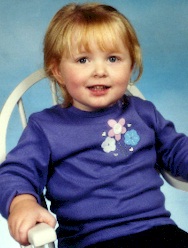 Jillian is 3 years 9 months old today 3/12/01.

Click here to listen to Jillian on 312/01 and hear her say, "Yes, mommy, happy birthday to me, (pause), Michael, go away, I love you, (pause), yellow bus, yellow bus."
.
Let Jillian's mother, Michele, know what you think of Jillian's speech, by writing to her at R122767j@aol.com.