SCOTT BILKER
2ND ANNUAL BLACK CAT KARATE TOURNAMENT
June 12, 1999 Howell High School, Howell, NJ
---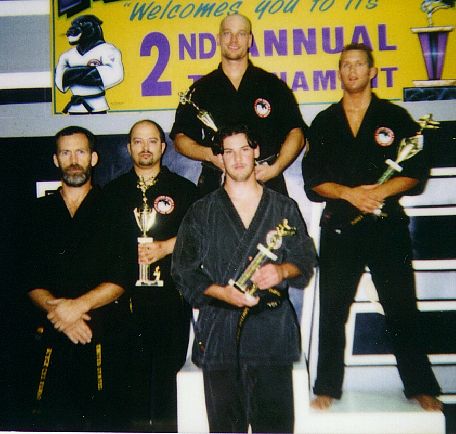 3RD PLACE
KATA
ADULT BLACK BELT

All the competitors from this division are shown here. Joe Gregory, owner of World Karate is in first place. He was also the Grand Champion, first in open forms and fighting (under 30).


---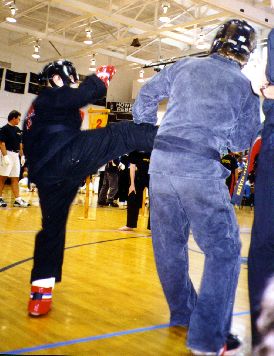 Scott on left sparring Rich Nicholls. This is fighting in the adult, over 30, black belt division. This match is the quarterfinal round.
---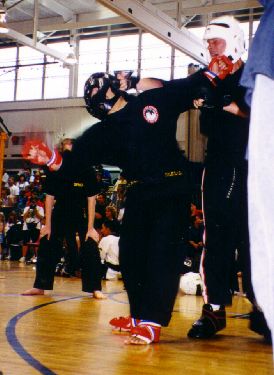 More action in the finals. I'm on the left scoring with a spinning backfist against the division champion Tom Curry. He's the owner of The House of Pain.

I lost this match 5-1.

---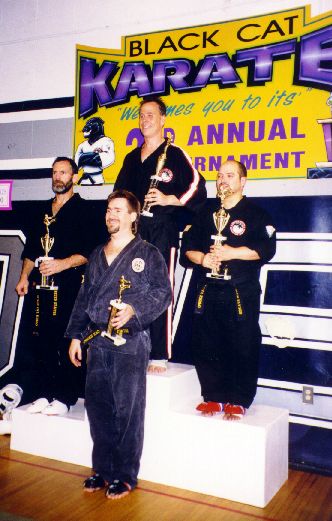 2ND PLACE
SPARRING
ADULT BLACK BELT, OVER 30
On the podium with Tom Curry (1st), Dick Somers (3rd) , and Rich Nicholls (4th).
---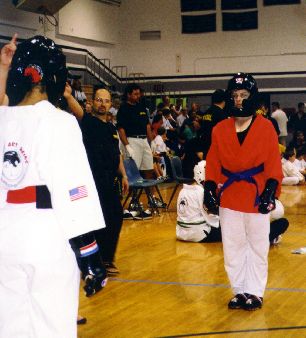 Here I am judging the womens' fighting. A very tough female crowd, I might add. You don't want to run into these girls under the wrong conditions.

---
Copyright ©1999 Scott Bilker. All rights reserved.